---
India is a land of many cultures and religions. India is a mixture of different castes, religions, languages, traditions and cultures. And with different cultures and religions, there are different festivals celebrated in India every year. While some festivals are celebrated regionally, others are celebrated nationally, the whole country as one, united and liberated. Each festival is celebrated with great enthusiasm and Great Spirit.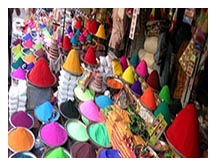 India has Hindu's, Muslims, Sikh's, Christian's and various other religions, and each religion has its own festival to celebrate.

Holi : Holi is the festival of colours and celebrated all over India where people throw colour or gulal at each other.

Diwali : The festivals of Lights. People decorate the houses and light with beautiful diya's and people burn crackers and have traditional food.

Navratri (Dussehra) : Navratri is the festival of worship of Goddess Durga and her nine manifestations for nine nights. It is one of the most auspicious occasions of the Hindu community.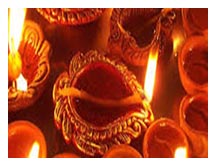 Raksha Bandhan : Raksha Bandhan is a festival to celebrate the bond of love between a brother and a sister, where a brother promises his sister that he will always protect her.

Onam : is a popular harvest festival of Kerela, and is celebrated to welcome the great King Mahabali. Onam is also famous for the snake boat race which is a great tourist attraction.

Krishna Janmashtami : For the people belong to Hindu religion, Janmashtami is one of the holiest festivals. On the birthday of Lord Krishna Janmashtami is celebrated all over India. This is a festival which is observed on eighth day of Shukla paksha in the month of Bhadrapad as per traditional calendar that is followed in the states of North India. Janmashtami is celebrated on different day in different states of India. It is because of the variety of calculations in the time of birth of the Lord Krishna and also for the differences in regional calendars. Janmashtami is famous for Dahi Handi in Maharashtra.

Kumbh Mela : The Festival of Immortality Kumbha Mela is one of the most ancient, yet still living, traditions of India's glorious past.

The festival dates back the pre-Vedic period, as even in the Vedas Kumbha Mela is described as a tradition that is already well established. The popularity of Kumbha Mela has only increased over the millennia, gathering millions together every twelve years at each of the four holy places in which the auspicious event occurs and making it the world's largest gathering of people on Earth for one common purpose. It is said that even those saints and sages who live in divine isolation, high in the Himalayas, engaged only in meditation and austerities, emerge from the mountains to attend the Kumbha. Kumbha is a world-renowned trademark of India's proud antiquity, and is a matchlessly divine occasion.

Spanning a period through January and February, Purna (Full) Kumbha Mela will take place in Allahabad (the City of God), also known as Prayagraj, a divine location situated on the confluence of three sacred rivers - Ganga, Yamuna and Saraswati.

Kumbha Mela is a microcosm of the beauty and rich diversity of India. One author describes the Kumbha Mela.

Book Now